Interview with Kathleen Snook, winner of the 2010 Context-St Hope Scholarship
---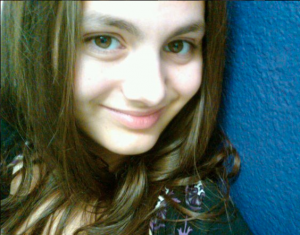 Five years ago the Context Foundation partnered with Sac High in Sacramento to develop a travel scholarship. The program has been incredibly successful, bringing high-achieving students to Europe and offering them the possibility to learn and experience travel with Context scholars.
To celebrate the 5th anniversary of our program, we have decided to interview the previous winners and see what they are up to! 
 1. What made you decide to apply for the Context -Sac High scholarship?
I saw that it was a wonderful opportunity unique to any other school I have been to. I had always dreamed of traveling since I was a child and the top of my list was Roma. My family is from Italy and everything I had ever heard or read about it made me want to go more and more. I always hoped of going to Europe before I graduated High School, never in my wildest dreams did I think my wish would actually come true. I knew I could never afford an opportunity like that, but once I came to Sac High my dream became a tangible goal. I loved that the program was a lot of work, it showed me how seriously Context and Sac High take this trip. From Interviews to major projects I knew that I really had to prove I would be a worthy ambassador for Sac High as well as Context.
2. Looking back at the trip, is there something you would have done differently, something you wish you had known before going?
Honestly I wouldn't change a thing. My experience was incredible. I feel that I was very prepared for the trip and that I took advantage of as much as I could while I was there. I am glad that I did not let new things scare me, I knew I was going to be in a completely different environment, surround by people with different mindsets and ways of life. Personally, I loved knowing that, I found it exciting, and tried to collect as much knowledge as I could on the trip. There is only so much you can prepare for, when it comes down to it, you really just have to experience it all and take everything in.
3. After 2 years from the trip, how do you think the trip has influenced you in your choices?
The trip has only encouraged me to do more traveling. It was my first taste of something incredible and I will never stop wanting to travel and see new things. I feel before the trip, traveling was something that was a far off dream, something very distant, almost impossible. Now that I have gone to Italy and France I realize just how possible it is. The invisible wall that made traveling seem impossible is gone.
Thank you Kathleen and good luck!