Past Projects
---
TYTT Context Scholarship Winners (2008-2015)
Here you'll find more information about our amazing previous scholarship winners. Each student creates a capstone video project at the end of their semester that focuses on an aspect of the trip. Click the links below to see their projects.
2016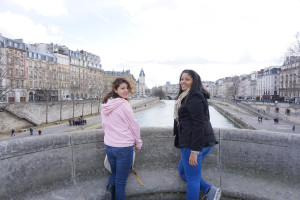 Ana Martin and Destyni Freese, the 2016 winners, in Paris.
---
2015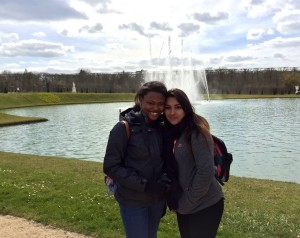 Jessica Hardy and Rebeca Vargas, the 2015 winners, at Versailles.
---
2014
Malik Lee and Myriah Catalano, the 2014 winners.
---
2013
Devin Hunter and Susan Vang, the 2013 winners.
---
2012
Sharqueya Drake was the 2012 TYTT Context Scholarship winner. She spent 10 days doing tours and classes in Rome and Naples. Sharqueya connected deeply with public art, especially graffiti in Italy, in which she saw connections to the "high art" she observed in the Vatican and other places. Check out her thought-provoking video on Context's You Tube Channel.
---
2011
The 2011 winner of the Scholarship was Tre'von Walker, a young student interested in architecture and history who spent 10 activity-packed days in Rome and Venice and wrote eloquently about the experience.
---
2010
In 2010, we were able to fund two students for the Context Scholarship, Kaneisha King and Kathleen Snook, two amazing students who immersed themselves in Rome, Florence, and Paris for nearly two weeks of learning. This was the first year that the Foundation invested in additional travel writing classes for the winners. Check out the announcement of their award.
---
2009
The 2009 winner of the Context Travel Scholarship was Bianca Vidales, a senior at Sacramento High School in Sacramento, California. Bianca spent 10 days in Rome working with scholars from Context on a documentary art-photography project, which she then shared with the wider Oak Park community back in Sacramento. Watch her video.
---
2008
The very first recipient of the Context Scholarship was Katie Hagstrom in 2008. Katie spent 10 days in Rome working with scholars from Context on a documentary video project that looked at how Romans lived with their past. Report on the 2008 scholarship. Watch Katie's final project.
---
Other Past Projects
We've also been involved in many other projects around Europe and North America since 2007:
Oltrarno Artisans Scholarship Winners (2009-12)
The 2012 recipient of the Context Foundation's Florence Artisan Scholarship was Ludovica D'Amico, a young Roman student with a background in languages. Ludovica spent six months working in a local workshop.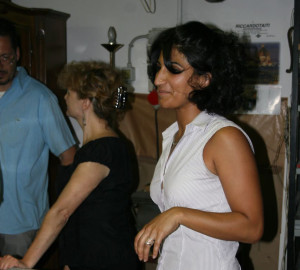 The 2009 recipient of the Context Foundation's Florence Artisan Scholarship was Negar Azhar Azari, a young Iranian-Italian jewelry design student who was born and raised in Florence and intended to learn the ancient art of metal working to become a designer in her own right. Read more about Azhar Azari's work on the Context blog. We are proud to announce that Negar has now opened her own store in Florence, not far from where she apprenticed.
---
Sponsor of the Tevereterno, Rome (2013)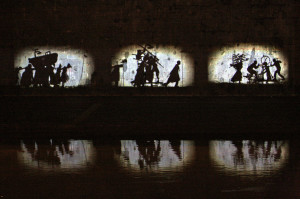 Context is a proud sponsor of the Tevereterno in Rome. Founded by American artist Kristin Jones in 2004, Tevereterno began as a way to create cultural happenings that drew from the potential of Rome's Tiber River. This project has now expanded to work with urban planners and architects to help renew the area. This year William Kentridge is starting a 3-year project with the hopes to gain funding for the requalification and restructuring of the area surrounding Porta Portese.
---
Easel Paintings Conservation program, London (2011-12)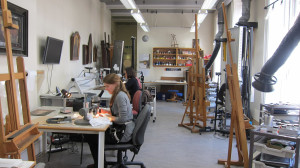 The Foundation underwrites a partial scholarship in the Easel Paintings Conservation program at the Courtauld Institute in London, recognizing the vital role that this institution plays in the continued viability of European cultural heritage. One of the most influential and effective conservation programs in the world, the Easel Paintings Conservation program sees many graduates go on to work in major museums in our cities. The winner of the scholarship was Kristina Mandy, a second year student at the Courtauld's Postgraduate Program in the Conservation of Easel Paintings.
---
Philadelphia: Get to Know Your City 2012
In 2012 the Foundation received a grant from the Aramark Charitable Fund to run a series of Tours in the Public Interest in Philadelphia for a range of public schools and educational institutions. The focus of the program was "get to know your city," and partner institutions included Neighborhood Bike Works and the Philadelphia Free School.
---
Preserving Flamenco Heritage, Madrid (2010-11)
In 2010 and 2011, we collaborated with Casa Patas, a local foundation that preserves Flamenco heritage through education, concerts, and a museum of photographic images. During our Flamenco seminar, Context clients had the chance to enjoy the museum's collections, sip a glass of Manzanilla (dry sherry, traditional Flamenco fare), and learn more about the heady interaction between singer, percussionist, guitarist, and dancer as they call and respond the interplay of Flamenco. Each visitor is given a booklet about the history and heritage of Flamenco.
---
Stanton Street Shul Restoration, New York (2010)
Support for restoration of the Stanton Street Shul. Working with one of our docents in New York who is a professional restorer and conservator, we ran a series of fundraising events for this historical Jewish shul on the city's Lower East Side in 2010.
---
Restoration of La Chapelle des Petits-Augustins, Paris (2010)
La Chapelle des Petits-Augustins at the Ecole des Beaux Arts is important to the study of French art, for it was here (at the Ecole) that most of France's greatest painters studied, and the chapel became a kind of repository for their studies–mostly of Italian art, of which it is filled with scale copies. The chapel stood in great need of restoration, which the Foundation helped fund through special visits.
---
Support for the Explorer's Club, New York (2009)
As part of a special event at the Explorer's Club in 2009, the Foundation made a grant to the Club to help support it's ongoing research.
---
Conservation of Prints at the British Museum, London (2009)
As part of Context's Out of Context Series, the Foundation hosted several exclusive visits to the British Museum's Drawing Cabinet, proceeds of which were diverted to the conservation fund.
---
The Venice Report (2008-09)
As any traveler to Venice knows, tourism has a major impact there, both on the environment and on its social fabric. To the first point, wake from cruise ships, daunting garbage management issues, and pollution of various types have had a serious impact on a city that is already in a fragile state. To the second point, as tourists and tourism-focused enterprises crowd out the Venetian population, the city is losing population at a tremendous rate. Venice as we know it—as it's been known for 1000 years—is facing serious challenges. Teaming up with the UK charity Venice in Peril, we helped finance a major study of the effect of tourism on Venice by noted ecologist, Venice resident, and Context Travel docent Jane da Mosto, which promises to bring into full relief the challenges facing this city and chart a roadmap for its preservation.
---
British School "Sack of Rome" symposium, Rome (2007-10)
Study and promotion of Ostia Antica outside of Rome. The ancient Roman town of Ostia is often overshadowed by Pompeii. However, for travelers to Rome it really makes better sense to visit this equally important site instead of making such a long (and fossil-fuel consuming) trip to Naples. Working with the Rome-based American Institute for Roman Culture, we supported a series of projects in Ostia during 2007, including measured drawings of its buildings and promotion of it as a more sustainable destination for Rome travelers than Pompeii.