Travel Scholarship
---
Transforming Youth Through Travel Scholarship
Working with the innovative educational nonprofit St. HOPE, which has transformed the inner-city community of Oak Park, Sacramento and established a new standard for public education and economic revitalization of urban communities in the U.S., we sponsor a yearly travel scholarship for one or two high-achieving students. The scholarship is designed to give youth from economically challenged, inner-city neighborhoods the opportunity to travel, and to broaden their horizons through travel.
Working with scholar-led tour company Context Travel, the scholarship includes travel and accommodations in Europe, plus a study trip with the scholars in the Context network. The program is intensive and includes several days of seminars, classes, workshops, and other programs, capped by a writing project. So far, students have visited Rome, Florence, Naples, and Paris as part of this program. To learn more or apply, visit St. Hope, and learn more about our past winners here.
To learn more about this program and its impact, watch this video of the winners' announcement from a few years ago.
The 2015 Scholarship in Images
The 2015 scholarship winners were Jessica Hardy and Rebeca Veliz Vargas from Sacramento High. Jessica, a junior, was an aspiring architect, while Rebeca, a senior, was developing a keen interest in art history. We welcomed them to Paris for 10 days in March 2015. Read more about their experiences.
Jessica on the trip to Normandy: Today I stood on American hallowed grounds – the Normandy American Cemetery and Memorial. Seventy years after the end of World War II read more>
Rebecca on being inside the Paris Opera house: I felt tiny next to the decorative lamps and statues, I had a feeling of royalty and elegance read more>
Rebecca reflects on her first days in Paris: Making mistakes on the metro, walking into stores saying bonjour and merci is an amazing experience read more>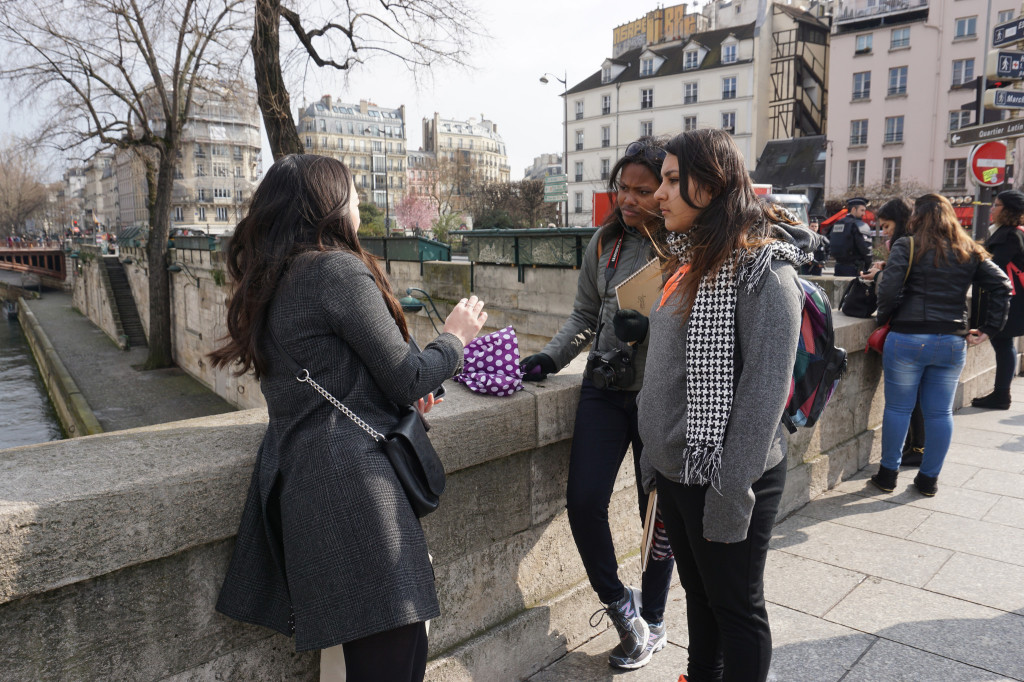 Jessica sees first-hand the effects of tourism on historic sights: While the nave of Notre Dame is nothing less than an impressive showcase of both Romanesque and Gothic architecture, I was easily distracted by the presence of the crowd, murmuring and snapping pictures. read more>
Donate to the Transforming Youth Through Travel Scholarship
Use our secure form to donate to this amazing program and change a student's life through travel.